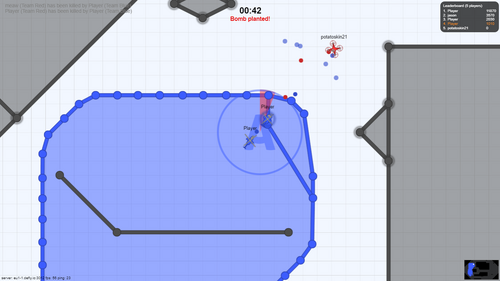 Defuse is the third game mode that was added on May 25, 2018. There are two teams with a maximum of eight players each, red and blue. In this game mode, the teams have different objectives, which are shown below.
The red team is supposed to plant the bomb. Once you plant the bomb, there will be text on the top of the screen saying bomb planted in red (as in the picture).
While in the blue team, there are 2 strategies. One is to let the red team plant, and then you defuse it so you can get points and money. You can also just block them from getting through to the bomb spot. Then, you will just have to wait it out, as your fortress blocks the red team players from getting to the bomb spot.
Before starting a round, players can choose between six different helicopters, and each one has different abilities and prices. You can also select some power ups, or superpowers as well.
This game mode is greatly different to the others, as it is made to be much shorter. There are often memes on the main defly.io discord about this gamemode because many use it to date.
Helicopter
Price
Abilities
free

Player speed

__________

Bullet range

_____

_____
Bullet speed

__________

Fire rate

______

____
Accuracy

__________

$2000

Player speed

_______

___
Bullet range

__________

Bullet speed

__________

Fire rate

_____

_____
Accuracy

__________

$1000

Player speed

_______

___
Bullet range

___

_______
Bullet speed

_

_________
Fire rate

________

__
Accuracy

_______

___

$2000

Player speed

_____

_____
Bullet range

_______

___
Bullet speed

___

_______
Fire rate

______

____
Accuracy

________

__

$3000

Player speed

__________

Bullet range

__

________
Bullet speed

__________

Fire rate

________

__
Accuracy

_____

_____

$4000

Player speed

__

________
Bullet range

__________

Bullet speed

__________

Fire rate

__________

Accuracy

_________

_
As was mentioned before, there are rounds in this gamemode. You will switch your team every five rounds.
In order to pay for the helicopter you choose, you can gain points for things that happen in a round.
| | |
| --- | --- |
| Action | Reward |
| Kill a player | $500 |
| Destroy a dot | $10 |
| Plant the bomb | $1000 |
| Defuse the bomb | $4000 |
| The bomb explodes | $2000 |
| Your team loses a round | $1000 |
Those who joined the server will also get a bonus $1000 as starting money.
After an update on 01-31-2019 you can get coins to use in PvP and teams. Killing a player will get you 5 coins and for every 20 towers destroyed you get 1 coin. You can view how many coins you have earned at death.
To win the game, you can either kill every player in the enemy team or plant/defuse the bomb. There are two bomb spots, A and B, and they're located on the left side of the map.
The goal of the red team is to plant the bomb in one of those two bomb spots and protect it for one minute, until it explodes. However, the goal of the blue team is to either defuse the bomb or protect the bomb spots until the end of the game. It can be planted/defused by staying still in a bomb spot for a few seconds.
After an update on April 29, 2019, seven new Defuse maps were added. Every few rounds, the maps would switch and players would vote on the new map by selecting one from a list of four. The map with the most votes would be played next.
Defuse Copter Descriptions
Basic.
Nickname: Basic
Strengths:
Speed, escaping and dodging shots made by Sniper, builds without tower health/shield, can equip many upgrades at once so is one, if not the only viable builder.
Weaknesses:
Other basic's, Reload, more than one Drone.
As the basic:
Don't try to kill players with a shield. Aim for AFK or trapped players to gain points to upgrade to another copter or gain add-ons.
Against the basic:
Basic's are easy kills when trying to plant/Defuse, and with a sniper the basic will probably try very hard to earn points before being killed.
Cheap Sniper (Below) can be used to fire off a few bullets.
If the basic has a shield, you could miss, or just remove the shield as the basic runs, with the highest speed in the defuse game. Reloads can wipe a basic with a shield away and then gain EVEN MORE points after defusing/planting the bomb.
Drone
Nickname: Drone
Strengths: Decent speed, great dodging, and good reload.
Weaknesses: SOME basics, Reload, and Sniper, other Drones.
As the drone:
Being near a teammate sniper or reload, can help boost them, and you, as the sniper doesn't have high reload but the reload and drone do. While the sniper protects you and the reload, the reload can destroy towers, and you can break in to the base together, kill the other team, and plant/defuse/protect. Your good reload and slight bullet speed will also make you a good fighter, especially against cheap snipers that have a bigger hitbox and will hardly dodge your bullets.
Against the drone:
Sniper is a killer for this copter, and can hide from the drone, and fire it's speed and long range bullets to kill the drone.
Cheap Sniper
Nickname: Cheap Sniper
The Cheap Sniper is half the price of a sniper (But with a shield, its more than the sniper)
As the Cheap Sniper :
The Cheap Sniper costs 2k. That allows the player to equip a decent amount of items. This copter possess decent speed and reload, and good bullet speed. Players usually do the following combinations :
- Cheap Sniper + Shield + Grenade
- Cheap Sniper + 2 Tower Health
- Cheap Sniper + 1 Tower Health + 2 Grenades
Against the Cheap Sniper
The Shotgun can be a good choice at close range by taking advantage of the better speed it has. At far range, sniper is the best option.
If you want more tips about these skins, check out the Defuse Roles Compilation page.
Unfinished for now
Maps
Below you can see the 8 defuse maps that you can play in. There is also all the player skins shown as well.